Our trusted sources tell us that Snow Leopard will be available in stores on Friday, May 29th!
— Tom Ierna
Automatic text-shortening technology can be dangerous!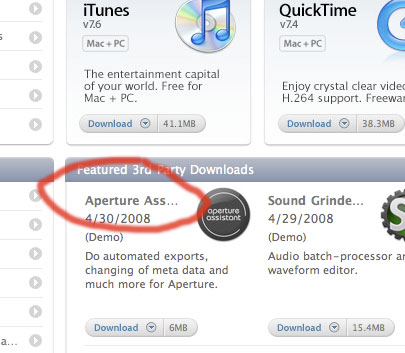 Apple's 3rd Party Downloads section shows a little more of Aperture's plug-in hole than normal.
Nod to the Hessian
— Tom Ierna
For those of you who have not been around this Internet thing for very long, DVD Jon is a legendary hacker. While he may be knowns as the father of DeCSS, the breakthrough decrypting software that paved the ways for DVDs to be copied, he has also kept his trained on Apple and the DRM in iTunes. It started with QTFairUse, moved on to PyMusique and is now at DoubleTwist.
DoubleTwist media's aim is to "liberate" your digital media. Basically, it converts purchased iTunes music to MP3. And once you have it on MP3, you can use it anywhere your heart desires, including music players not named iPod and cell phones not named iPhone. Go get it while it's hot, or until Apple's lawyers start circling the waters of Norway.
— Joe Fahs
Interesting product news out of Apple today as the company announced the second version of it's Xsan SAN filesystem product for OS X. Xsan 2 boasts a new administration interface, support for multiple SAN volumes, and support for 3rd party RAID hardware. We'll have to check in with our production and post production peeps to see what they think of the upgrade, but we do know a few locations that will make the upgrade for the multiple SAN volumes alone.
The other bit of news in this story is the disappearance of the Xserve RAID. As MacDailyNews reports, it is no longer available from the Apple Store and Apple appears to be promoting the Promise VTrak RAID instead. The Xserve RAID was a good product, but it hasn't been updated very often. It does make one wonder if Apple has spread itself too thin, but the people at Promise might actually be better equipped to sell and support high-availability storage, perhaps making it a better deal in the end.
— Joe Fahs
I am not one of the people who thinks that Mac OS X is so inherently secure that people using Macs will never have to worry about a virus. Apple, like every other computer manufacturer, has security issues, but I do think Apple does as good a job as any at identifying these vulnerabilities and taking care of them. However, it is annoying to read about how every new malware threat demonstrates how you have to be careful even if you are running Mac OS X. And more importantly, how you should think about buying some security software to make sure you are safe.
The latest report comes from Sophos, which takes things up a notch by stating that cybercriminals are finally starting to target Mac OS X. And we all know that one a cybercriminal gets involved, things are 10.736 times as dangerous because they are looking to steal your money, not just make life annoying for you. And it's not just your Mac that could be vulnerable, but your iPhone and iPod Touch! And if you think Linux makes you safe, think again! The criminals are catching on!
Like we've stated before, you should take computer security seriously, especially with identify theft becoming such a huge problem. However, the same rules apply to most any computer user out there. Be careful with your names, passwords, credit card information, and anything you download from the internet. We do want to thank Sophos for being so concerned, but the next time they want to warn people about cybercriminals, they should quote some people besides their own software engineers.
— Joe Fahs