I enjoy poking fun at execs who make bold predictions about Apple's potential. The biggest blunders in that regard are Michael Dell's infamous "give the money back to the shareholders" quote 10 years ago and Steve Ballmer's assertion that, "There's no chance that the iPhone is going to get any significant market share. No chance." Comparing AAPL to DELL over the last 10 years shows just how wrong Michael Dell was. Steve Ballmer didn't need nearly as much time to look like a fool.
Anecdotal evidence makes it obvious that the iPhone has gained significant market share but exactly how significant? It's hard for a POCWACTSO to do the same kind of analysis that a so-called investment insider might do, but here's what I have found…
I've read a couple of articles that have repeated Microsoft's Windows Mobile licensing numbers. For their 2006-2007 fiscal year, they sold 11 million Windows Mobile licenses. It also says that Microsoft expects to sell 20 million Windows Mobile licenses in the current fiscal year which ends this month. Now, these are OS licenses and Windows Mobile is not limited to phones. I'm sure the majority of those licenses ARE for phones but the number does include PDAs.
If that is the measurement standard then we need to include the iPod touch numbers in our count when we make our comparisons. But Apple doesn't break out those numbers. They're lumped in with the iPod. Fine. We'll just stick with the iPhone numbers for now. In the last 3 quarters, Apple has sold 5,137,000 iPhones. The current quarter (which ends around the same time as Microsoft's fiscal year) is up in the air. With the 3G iPhone's anticipated release today, they will have missed almost a full month of potential sales because of their supply problems. That said, demand is building and the expectation is that Apple will have a LOT of the new phones available for sale immediately after today's announcement. That will give them 3 weeks of blockbuster sales before the quarter ends.
So let's look at two sets of numbers for comparison.
Rather than trying to estimate how many devices they're going to sell in the current quarter, let's just go with what they sold the last 3 quarters and compare it to what Microsoft says they will have sold in their fiscal year. 5 million to 20 million. In spite of supply constraints, a limited number of countries, carrier exclusivity arrangements and ignoring both iPod touch sales and any iPhone sales for the current quarter, Apple still manages to have a respectable 25% of Microsoft's numbers.
Now let's take some liberties to make some more reasonable estimates.
As everyone is already well-aware, Apple is expected to release the 3G iPhone today, and this time it's going to be a nearly worldwide release. If the rumors are true and Apple is staging these things for immediate availability everywhere, I would expect them to sell at least 3 million of them in these final 3 weeks of June. I'm betting they've sold at least a million of the current generation models in the two months prior to its disappearance. And since we don't have any actual numbers for the iPod touch, I'm going to pick a relatively small number out of thin air and say that they've sold 1 million of them in total since they were released. That puts Apple's totals a little over 10 million… 50% of Microsoft's numbers.
I'm betting they'll pass Windows Mobile's numbers by June 2009.
— Matthew Sparby
The big buzz on the Internet these days is the imminent release of iPhone 2.0. I am not sure if I would go that far. If you are familiar with Mac OS versioning Lexicon, we would call it iPhone 1.0 version 2.0. But we haven't blogged for a while, so we can't complain about the naming conventions passing us by.
Tech bloggers all over the place point to iPhone shortages, which started when Carpone warehouse said they were out of stock of the 16GB model, but the chatter really started hitting the fan when the US Apple Store reported they were no longer in stock. Diminished stock of hardware has always been a way that the Mac rumor industry has keyed in on product updates. The conventional wisdom said that iPhone 2 would be out in June, approximately a year after the initial release of the phone. But if the company is out of stock now, somebody would have to do a lot of explaining to rationalize why Apple might go a month without selling an iPhone.
Back in January, some pundits speculated that Apple might be stuffing warehouses with excess iPhone stock to boost its sales numbers. If only that were true, Apple wouldn't be out of stock now! We laughed at the shoddy analysis then and this being the Internet, we couldn't resist another opportunity to call out the analysts once again.
— Joe Fahs
At the beginning of the year, I wrote about how we'd attempt to support Mac Journalism on this site with reader contributions, ad revenue and sponsorships.
Here's your chance to make a reader contribution and get some cool schwag in return.
Visit MacEdition's Spreadshirt Store and grab an I Saved MacEdition shirt or Mousepad.
Note that while these shirts are expensive, about half of each sale actually goes to us. The Spreadshirt folks have a great product, but it don't come cheap!
So, if you'd like to help us keep generating increasingly better Mac news and analysis, drop some $$ into our coffers by buying yourself something.
— Tom Ierna
No, literally, made on a Mac; many of the sequences are done with elements of the OS.
Appearances are made by Microsoft Office, Time Machine, Final Cut, the Finder, Quicktime, VLC, Photoshop, Fast User Switching, and a slew of other apps.
Brilliant!
— Tom Ierna
Automatic text-shortening technology can be dangerous!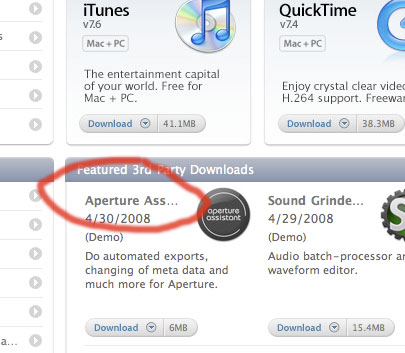 Apple's 3rd Party Downloads section shows a little more of Aperture's plug-in hole than normal.
Nod to the Hessian
— Tom Ierna